Meet Keith and Becky Buckingham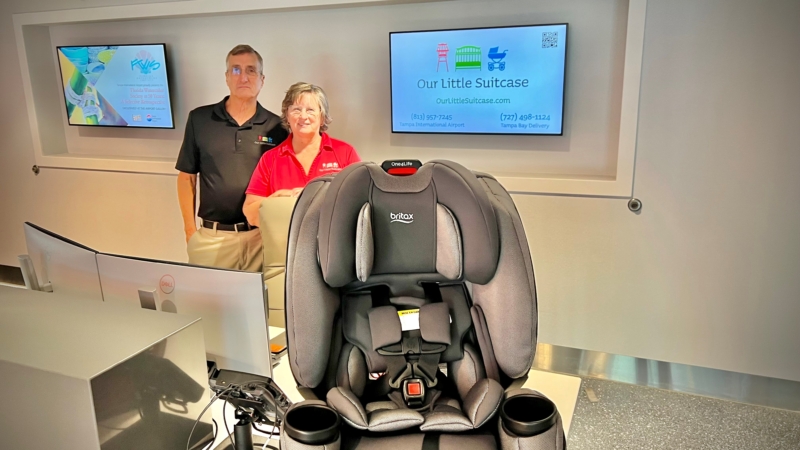 Thank you for visiting Our Little Suitcase today!
You are part of our family and we are happy you dropped by today. Our goal while you are visiting is to make you feel right at home, so grab a cold sweet iced tea and start your visit by getting to know us!
In October 2012, after working with friends for about four years who served the Pinellas County beaches, we decided to start our own business. Living in Central Florida all of our lives, the beautiful drive through the Tampa Bay area and coming up over the bridges to meet the beach each day was a welcome and beautiful sight. We learned quickly that helping guests enjoy their vacation by removing the stress and worry of traveling with small children was very exciting and fulfilling.
The Orlando area is where we began, but due to the distance of the Orlando Airport from our home and Disney's decision to limit the number of featured providers they worked with, we decided to serve the Tampa Bay Area providing car seats and stroller rentals.
In 2016 we expanded our service area to Pinellas County with a focus on the beautiful Gulf Coast beaches.
At the beginning of 2020 we started the process to rent space inside Tampa International Airport, but the pandemic happened which put the project on hold. It took us two and a half years but as of July 1, 2022, we are here. Excited doesn't even begin to explain how we feel to add this new option for our customers.
At the end of October 2022 we made the decision to no longer provide service to Pinellas County and the Pinellas County beaches so that we could focus on our new location inside Tampa International Airport. That was a very hard decision to make as we had built a very successful business, developed a solid customer base and created a great rapport with our property managers.
Not only can you pick up and drop off your gear at Tampa Airport, we still offer delivery within a 10 mile radius of the airport with a minimum $85.00 order and no delivery fee. Give us a call or send us an email with your delivery address to see if it is within our new delivery area.
Follow us on, Instagram, Facebook,  Pinterest, Twitter and our very own YouTube channel. Click on the icons through out our site to connect with us instantly.
Thank you for visiting, and come back to visit us anytime!
Keith and Becky Buckingham